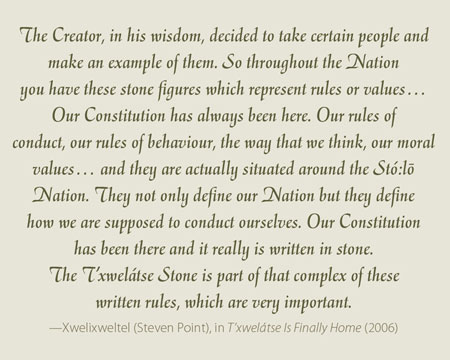 Written in Stone
The film Written in Stone is an aerial flyover following the path of Xexá:ls as they travelled through the eastern half of S'ólh Téméxw making the world right… Xwelixweltel's words (taken from his interview in T'xwelátse Is Finally Home) scroll across the screen as an introductory statement. Stó:lō songs alternate with elevator music as the only other "sensory" things in the film. There are no spoken words, only visuals and music. That's it. Simple enough, right? But, while watching this simple film, ask yourself: What do I see?
Do you see a beautiful environment? A stunning landscape of mountains, rivers, lakes, and forests? Do dollar signs ring up in your mind's eye, focusing on the value of available lumber, gravel, and hydro power? Do you see the land as an empty office with no other furniture in it, save for a rock or two, when you arrive on your first day of work—or on your first day of exploring the region for the Hudson's Bay Company in 1808? Or when you plant the colonial flag staking out British Columbia in 1858?
Or do you see deeper than that, through the skin and beyond all those things on the surface? Do you see deeper into the heart of the land? Do you see the stone people, living geographic landmarks holding within them the laws of the land? Do you see their stories? Do you see the interconnections between peaks and places? And can you read them as inscribed chapters of a cultural landscape of meaning, an instruction manual on how to behave properly, how to live together in a good way?
If the cultural landscape of S'ólh Téméxw is invisible to you, you are not alone. This form of cultural blindness is, in fact, both very common and quite easily curable. If you care to, you can overcome this blindness and "see the invisible." Learn. Expand your vocabulary. You can easily deepen your sensibilities to learn sxwōxwiyám, to awaken to "another way," and to bring a new layer of reality and meaning to what you see around you every day (if you are fortunate enough to live in beautiful S'ólh Téméxw).
Take Lhílheqey, for example. The profile of Lhílheqey can be seen from many locations throughout the Central Fraser Valley. She's huge. She's unmistakable. So is the profile of her dog, who faithfully followed her home as she and her daughters and sisters moved back from Nooksack, to be immortalized by Xexá:ls in living stone, captured shxwelí. Her profile graces the Chilliwack City Council chamber and numerous business logos.
While you probably know her as Mount Cheam, see her and understand her now as Lhílheqey. After you see her once this way, you will forever awaken to that recognition. Learn her history, how she is connected to "Mount Baker," where her sons went, why she was transformed to stone, what her role is, and what we have to learn from her in guiding our behaviour as good human beings. Open up. Acquire this knowledge. Learn it. Carry it. Share it. Respect it.
See how easy it is? You are already learning to see the invisible. A literal mountain materializes before your eyes—an entire landscape, for that matter. Repeat this process with other landmarks. For starters we suggest Echo Island (Harrison Lake), Mount Slesse and Mount McGuire (Chilliwack River Valley), Mount Hope (Hope), and Lady Franklin Rock (in the lower Fraser Canyon).
Continue to do this while watching the film over and over again. Ask yourself: Does what you see change through time? Are you making the invisible visible? Are you recognizing the living landscape of which we are all a part and to which we are all connected? Are you learning to live together in a good way? Or is your office still a vacant and unoccupied place, save for a few rocks and stones?

Transformer Features in S'ólh Téméxw

The arrows on this map show the pathways of Xexá:ls—starting at the head of Harrison Lake (top centre of spread)—as they travelled through S'ólh Téméxw making things right. Overlain on this map is the helicopter flight path from the film Written in Stone. Follow along.
PLEASE CLICK ON THE MAP TO SEE A LARGER, READABLE VERSION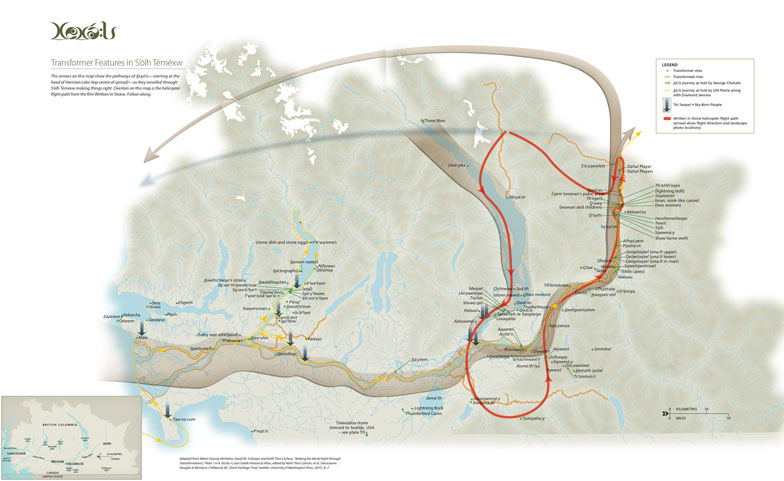 Adapted from Albert (Sonny) McHalsie, David M. Schaepe, and Keith Thor Carlson, "Making the World Right through Transformations," Plate 1 in A Stó:lō–Coast Salish Historical Atlas, edited by Keith Thor Carlson, et al. (Vancouver: Douglas & McIntyre; Chilliwack, BC: Stó:lō Heritage Trust; Seattle: University of Washington Press, 2001), 6–7.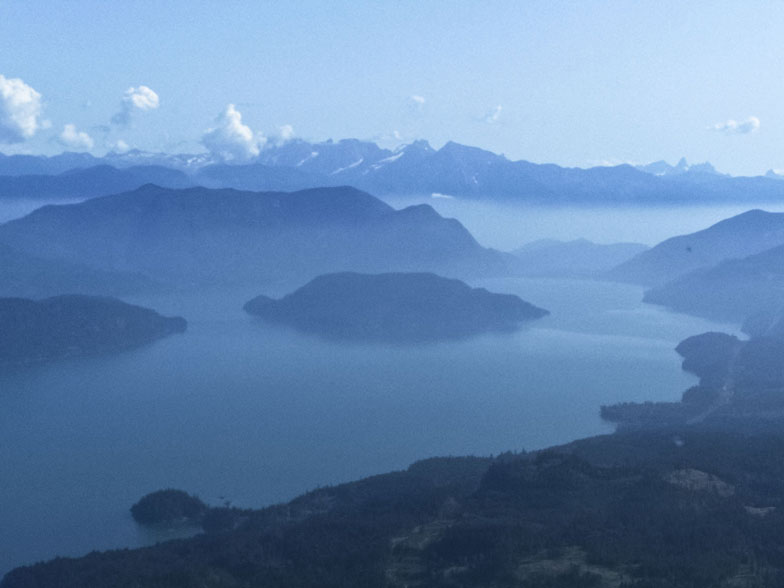 We move through the landscape of transformed people and places following the path of Xexá:ls from Harrison Lake down to the Stó:lō (Fraser River) and upriver towards the sun—here moving south towards Lhílheqey (transformed woman; Mount Cheam in the background centre), Óyewat, Séyewòt, Xomó:thíya (the three daughters), Sqwemá:y (dog), and her sister peaks.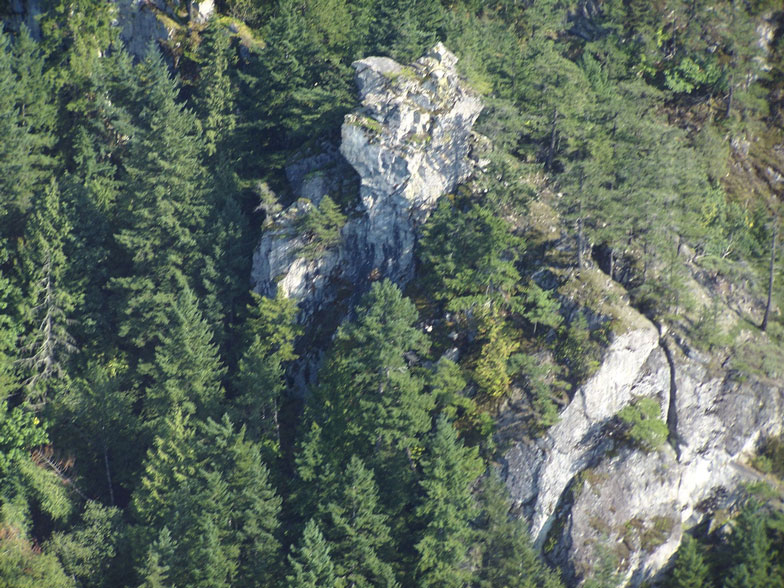 Chítmexw ("Horned Owl").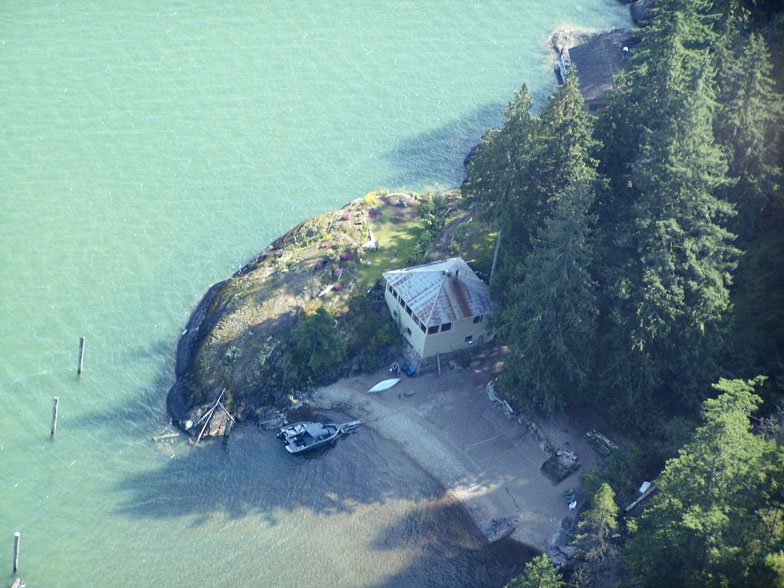 Qwél:es ("Whale Rock," partially built upon), at the head of the Harrison River.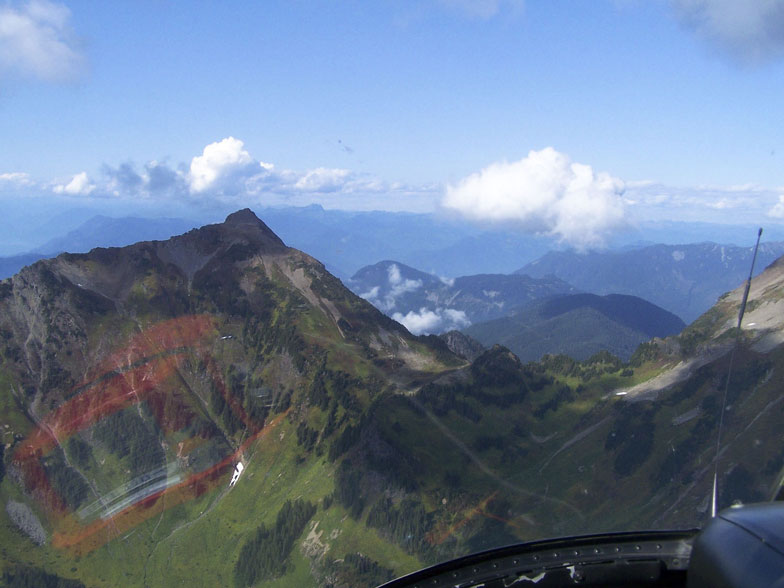 Lhílheqey (Mount Cheam)—peak in foreground, left—overlooking the central valley.
Q'aw ("howl," the howling dog, centre).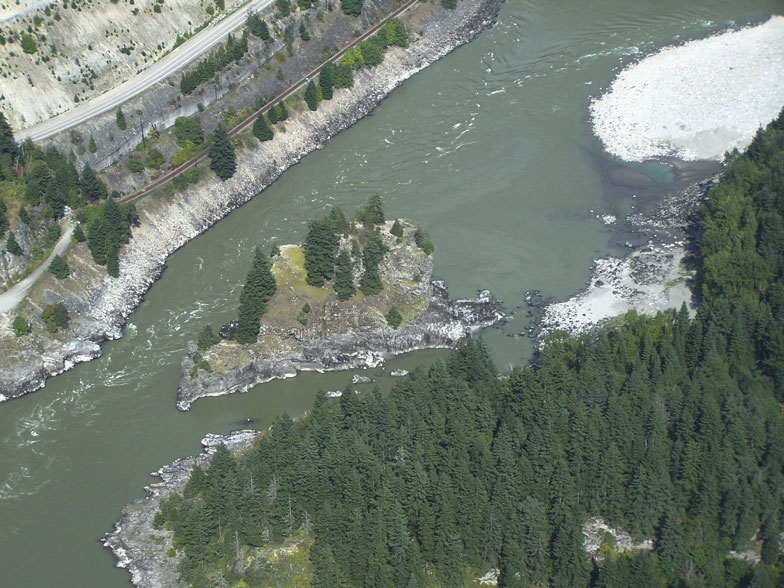 Standing at the entrance to the Stó:lō Five-Mile Fishery and lower Fraser Canyon are Xéylxelamós (an Indian doctor, island midriver; Lady Franklin Rock), Th'exlís ("gritting his teeth," west bank), and lightning bolts (east bank), resulting from the contest of power with Xexá:ls.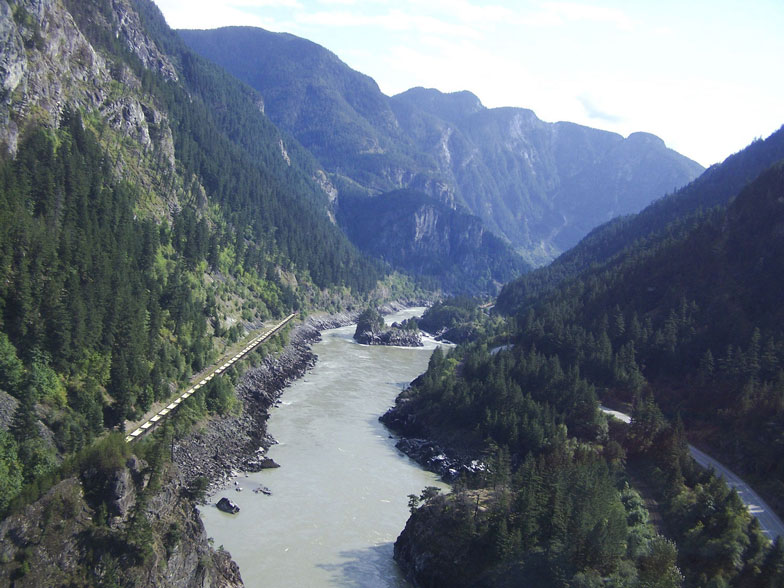 Travelling above the village of Lexwts' ókw'em ("always skunk cabbage"), with what remains of Mómet'es (the Index Finger, partially destroyed by CN Rail blasting in 1999) on the ridge in the distance, marking the viewshed of the Stó:lō Five-Mile Fishery in the lower Fraser Canyon.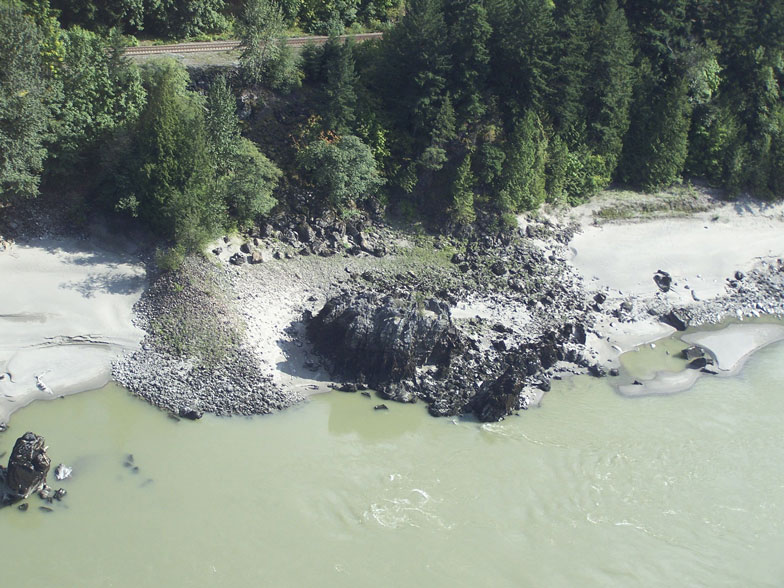 Slahal Players, gamblers playing the "bone game," at the upriver limit of Xexá:ls' travels through S'ólh Téméxw.